When you think of all the things you want to do this summer, home maintenance might not be at the top of your list. However, if you want to spend more time enjoying your home and less time worrying about costly repair bills, you'll want to get ahead on a few chores. To make it easy for you, we've compiled a list of 7 quick expert maintenance recommendations that will help you keep your home in top shape.
Tip 1: Inspect and Clean Your Air Conditioning System
Not only does a functioning AC unit keep you cool during warmer months, it can also help protect your family from certain health issues. Start by replacing the air filter in your unit. The filter is one of the most important parts of your AC unit. It blocks dirt and debris that can damage your HVAC system and screens particles that can pollute your indoor air quality. You'll also want to do a walk around inspection of the entire system to check for damage to the outside unit as well as gaps in the air ducts.
Tip 2: Seal Gaps in Windows
This isn't just a task for winter! Drafty windows can significantly impact the energy efficiency of your home. Check for gaps, cracks, or weather damage. Apply caulk to the windowsills to prevent hot air from entering your home and cool air from escaping. Other things to look out for when inspecting your windows include condensation and difficulty opening/closing your windows. If you notice either of these, it may be time to replace your window.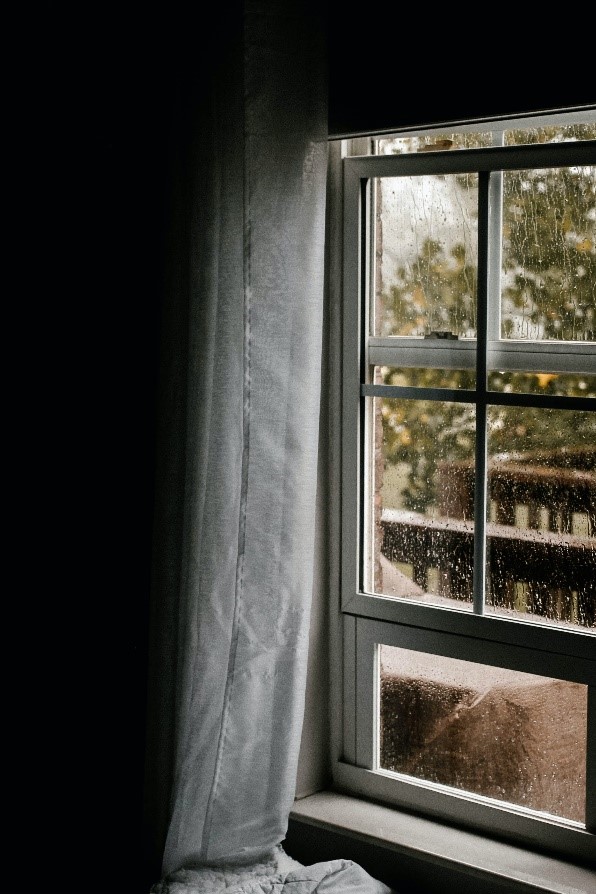 Tip 3: Check Your Gutters
It's possible for your gutters to become damaged during the winter and clogged during spring months. Do a visual inspection to make sure that they are not bent or disconnected. Clogged gutters and downspouts can lead to water damage so make sure they are free of leaves and other debris. Speaking of downspouts, make sure they are pointed in the right direction and are positioned to take water as far away from your home as possible. If necessary, you can purchase extensions to help direct water away from your home.
Tip 4: Renovate Your Deck/Patio
Updating your outdoor living space gives you a lot more opportunities for summer fun and is one of the easiest ways to add value to your home. It's recommended that you paint or stain your wooden deck every few years to extend its lifespan. If your home has a patio, check for cracks or missing brick. If you have furniture on your deck or patio, make sure that you are able to lock them to a fixed structure or stake them into the ground in case of strong storm winds.
Tip 5: Spruce Up Your Yard
Not only will it make your yard safer, but a well-maintained lawn and garden will add to your home's curb-appeal. Consider pressure washing siding, sidewalks, and driveways. Repair fencing, repaint siding, and even add a new shade tree to keep your home looking like new. If you're looking for new ways to make your yard stand apart from the neighbors', check out these sustainable DIY backyard project ideas.
Tip 6: Keep Pests Out
I think that we can all agree that a squirrel in the woods is cool, but a squirrel in our kitchen? Not so much! Insects and rodents can easily make their way into gaps, holes, and cracks along the walls and foundation of your home if they are left to worsen, so make sure they are sealed. Make sure your firewood is stored off the ground and that you rotate your supply often to deter rodents. Lastly, fence off areas' underneath decks and other raised platforms to keep away larger animals from denning.
Tip 7: Evaluate your Home's Security System
Summer is when most people plan long family vacations and criminals are aware of that. To keep your home secure while you are away, make sure there is no damage to your exterior door and window locks. Install motion sensors and automatic timers for lights. Be sure your security system is up to date and that you are able to access it through a network from anywhere using your phone. Communicate with neighbors that you trust so that they know when you will be away from home for an extended amount of time. Ask them to keep an eye on your home or even pick up packages from your doorstep. And finally, be sure to have someone come check on the inside of the home every couple of days (insurance companies require this if you are away for more than 72 hours so any flooding or other mishaps are caught quickly.)
Summer is here, and now is the perfect time to get your home in tip-top shape for the season. Don't wait until it's too late, get started today so you'll have plenty of time to enjoy a stress-free summer!
Download our Free Home Maintenance Guide for a comprehensive annual home maintenance – including summer maintenance tips. It even comes with an annual checklist that will make the process quick and easy.