Your bathroom is one of the most utilized rooms in your home, and it's often a place we use to relax and escape the everyday stresses of life. If your bathroom is outdated or in need of renovation, we love to help our customers turn it into a luxurious and personalized oasis. This blog post will explore some ideas that will help you achieve the perfect spa bathroom retreat. Let's get started!
Start With Tiles 
It might sound like an odd place to start, but the floor often provides the most dramatic change in a bathroom and the options are endless for tile texture, colour, size and shape. Beyond the floor, tiles also play an important role in bathroom showers and walls, so it's important to give a lot of thought to your tile choice. (We always recommend working with our professional designer if doing a total bathroom renovation.)
You want to choose a tile style that will complement your overall design scheme and add some luxury flair. Of course, ceramic and porcelain tiles are always a classic choice, but if you want something with a bit more personality, try patterned or mosaic tiles to make more of a statement. 
Look at Top Toilets for Your Home Spa 
When you renovate your bathroom to turn it into a spa, you might be surprised to learn how hard it is to decide what type of toilet to install. There are many different types and styles of toilets on the market, so how do you know which one is right for your home spa? 
Here are a couple of things we recommend to keep in mind when choosing a toilet:
Style: What style of bathroom are you creating? If you're going for a more traditional spa look, then a classic white toilet remains a good choice. However, if you're looking to create a more modern spa bathroom, then you'll want to consider a toilet with a sleek, contemporary design. 
 
Features: What features are you looking for in a toilet? A basic model will still get the job done if you're not worried about having all the bells and whistles, but if you're looking to turn up the dial on luxury, go for a model that includes heated seats, automatic flushing, and built-in bidets.  
Choose a High-End Shower 
Everyone focuses on the bathtub for a bathroom reno, but another way to turn your bathroom into a home spa is to install a high-end shower, separate from your tub. There are many different types of luxury showers on the market, so you can choose one that fits your specific needs, or you could request a custom-built wet room if preferred.
A simple example might include installing a rain shower head that mimics the experience of being in a rainforest. Or, if you prefer a more traditional spa-like experience, you can install a steam shower.
Another option is to install a digital shower, which allows you to control the water temperature and pressure with the push of a button. You can also add features like LED lighting and music to create a truly unique and relaxing experience. 
Quality Faucets for a Luxurious Bathroom 
When it comes to bathroom renovations, the fixtures and fittings shouldn't be overlooked in the design. It's these details that truly elevate an ordinary bathroom renovation into a show-stopping spa. Be sure to set aside a considerable amount in your budget for these details – they are not cheap but are worth the investment. 
Cabinets and Storage Solutions 
One of the most important aspects of any bathroom is cabinets and storage solutions. When renovating your bathroom, it's an excellent opportunity to upgrade these features. If you have an outdated bathroom, chances are you don't have enough storage space, and this can be remedied with some smart renovation ideas.
Bathroom cabinets can also add a lot of luxury to your bathroom. There are many distinctive styles and materials to choose from to complement the look and functionality you are going for.
For example, glass or mirrored cabinets are a great choice if you want to make the room feel bigger and brighter. Wood cabinets can give the bathroom a warm, rustic feeling, while metal cabinets can add a touch of glamour. 
Install a Spa Bathtub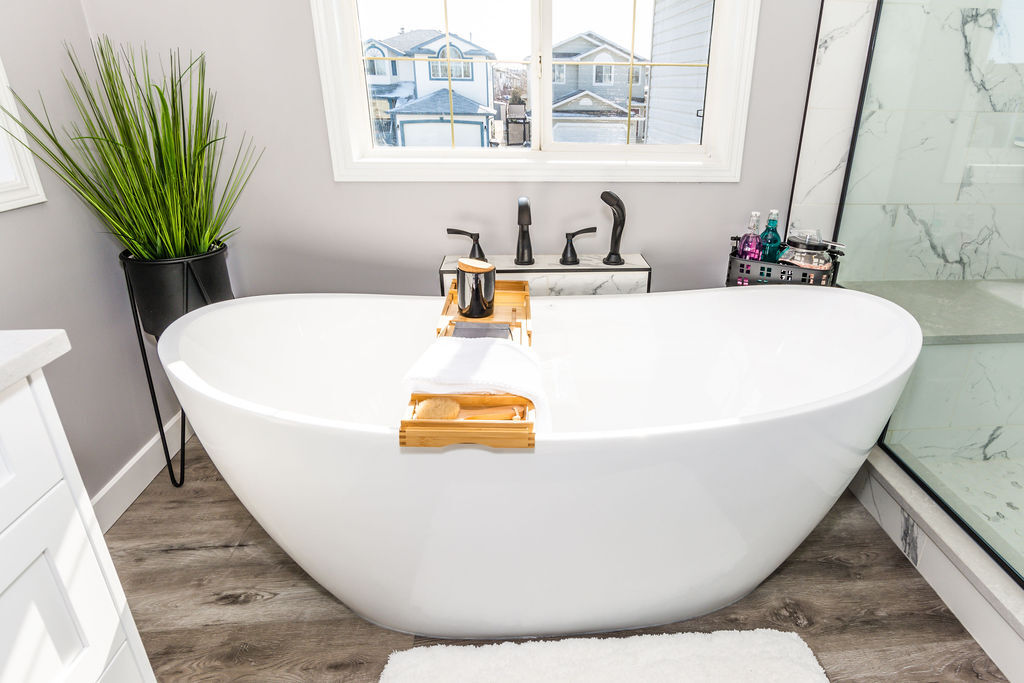 There are many different bathtubs available on the market, so you shouldn't have trouble finding one that will perfectly suit your needs and preferences. Some of the more common bathtub options include: 
Soaking tubs: These are perfect for relaxing in, as they allow you to submerge your body in the water entirely.
Whirlpool tubs: Gives your bathtub the feel of a hot tub. These are perfect for those who have injuries or work in jobs that benefit from massage, as the jets help loosen muscles. 
Air tubs: These provide a gentle massage using air bubbles and they are also relatively quiet, making them perfect for those who want to relax. 
Combination tubs: These offer the best of both worlds, as they include features of both soaking and whirlpool tubs. 
We Specialize in Home Spa Bathroom Renovations 
If you are looking for a way to pamper yourself, installing a spa bathroom truly is the perfect way to do it. Not only will it make your bathroom look amazing, but it will also allow you to relax and de-stress after a long day.
If you are thinking of undertaking such a project, contact us. At Lambert Brothers Construction, we specialize in bathroom and ensuite renovations and would love to offer you a free consultation.