Wondering whether or not it's time to renovate? Need a sign? We've got five.
Maybe you've been living with an eyesore or inconvenience for a long time – and kind of gotten used to it. Maybe you love your home, but it's just not feeling spacious enough for you and your changing lifestyle.
It's natural to hum and haw over making a big decision regarding your biggest asset – but eventually, it's time to bite the bullet. So how do you know when it's the right time to take the plunge to renovate?
Don't worry, we understand because we've been doing home renovations for 15 years. We know from experience how to decide when it's time. Here are our top 5 signs it's time to renovate:
1. You're noticing signs of deterioration.
From worn out floors, to loose or breaking down cabinetry — when things start falling apart it's a good sign there's work to be done. Pay attention to any uneven flooring, loose or sticky doors and windows as those things may indicate greater structural problems with your home.
You might also notice a leaky roof, or drainage problems. Any sign of water should be addressed as quickly as possible since water can cause significant damage to internal structures and make repair more costly.
2. Your house is a time capsule of out-dated design trends.
Whether you haven't gotten around to renovating since purchasing your home, or you just haven't made many cosmetic upgrades in the last decade (or two), out-dated decor will make selling more difficult down the road.
You deserve to live in a beautiful home that reflects your current style. Stop dreaming of the perfect home and make it a reality! If you've been collecting magazines for forever and pinning to your "dream home" board — don't wait! It's time to renovate.
3. Your bathroom is the opposite of relaxing.
Bathrooms are important. You spend a lot of time there.  And a professional, expert level of finishing is important to make sure plumbing is done correctly, space is maximized, and speical features you may not have been aware of can be installed.
It's also known that kitchens and bathrooms are what sell homes. This is an area of your home where any renovations you make will make a big impact if you are thinking of selling your home. Here's what to look for when deciding whether you should renovate the commode:
Mold and mildew build up.
Puckered, missing or shrunken caulking and missing grout can allow water to seep into wall cavities and lead to mold behind the wall. A lack of proper ventilation can cause moisture to build up on your walls and create mildew (which again can lead to mold!).
You can't get surfaces clean anymore.
Whether your toilet is permanently discolored no matter how much you scrub, or your faucet is somehow always a little crusty — as time goes on, it may seem more difficult to get surfaces clean, and keep them looking clean. When finishings begin to degrade, replacing them will help you keep your space hygienic and sparkling.
The extra-large jacuzzi tub seemed like a stroke of brilliance or a big selling feature when it was installed, but ten years on you've realized it's no more than a water and space hog. That bulkhead is right where your medicine cabinet should be. The vanity is huge, and you can barely get the cupboard doors open in a narrow space.
Space is precious in the bathroom, and it takes careful planning and expertise to optimize what you've got for maximum functionality. If bathroom space is at a premium, it's time to get professional advice!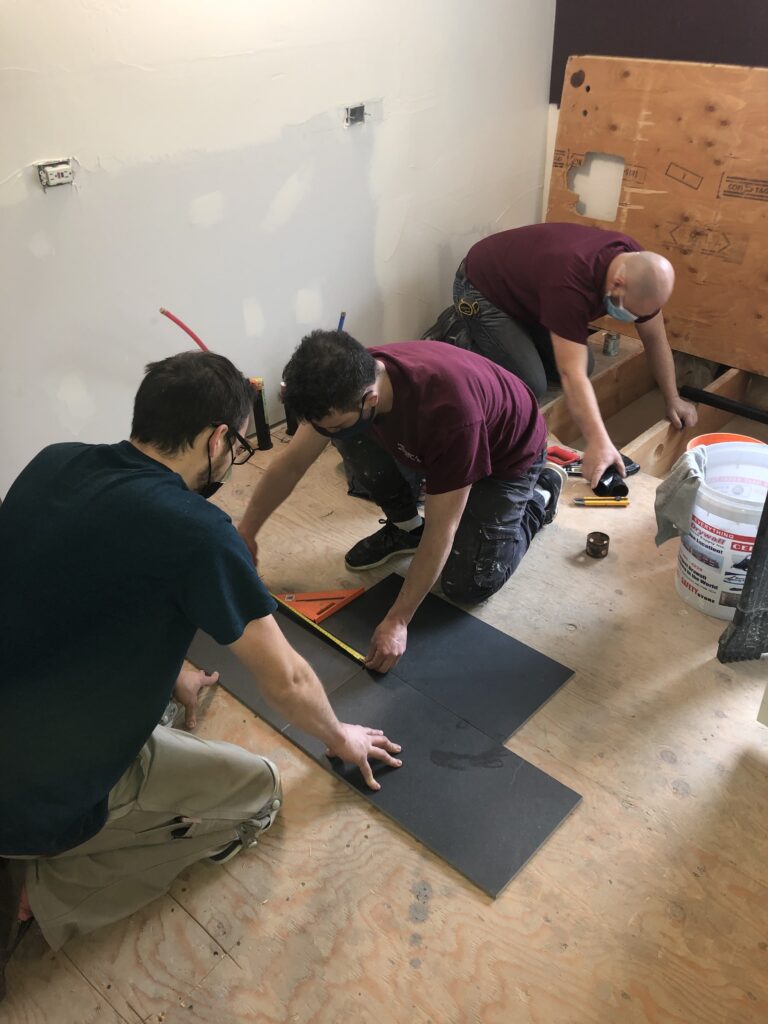 4. You're not using all the space you have.
Big wasted spaces are already a red flag, but so are UNUSED spaces. As you grow into your home, add to your family (pets or kids – both take up space!), or just add to your collection of stuff – you're going to start wanting your surroundings to match.
Unused spaces such as undeveloped basements, attics, or even storage rooms can be renovated to give you the space you need without having to move. Instead of dreaming of having more living space — make it a reality!
5. You're living with a DIY dud.
Look, it happens. No judgement here. You think you can handle it on your own so you break out the tools and buy the supplies and get started and you realize you might have been in over your head. Generally speaking, bathroom renovations are the most complex of all renovations and are no place for a beginner.
Youtube can teach you some of the basic things, but improvisation rarely fills in the gaps. In the end, you (or a future buyer) aren't happy with the results. Don't risk living with your DIY flops staring you in the face. Get a professional in there to handle it! At Lambert Brothers Construction, our pride of workmanship matches your pride of ownership and we are happy to provide you a quote for a guarantteed successful project.
As a final point, there are two additional considerations to think about:
Do you have the funds for a renovation? And, are you able to tolerate the temporary lifestyle disruption a renovation brings?
If one or more of the above signs speak to you, and your answers to these questions are yes, congratulations! The decision is easy. It's time to renovate! Don't go on side-eyeing the imperfections in your home — give us a call!